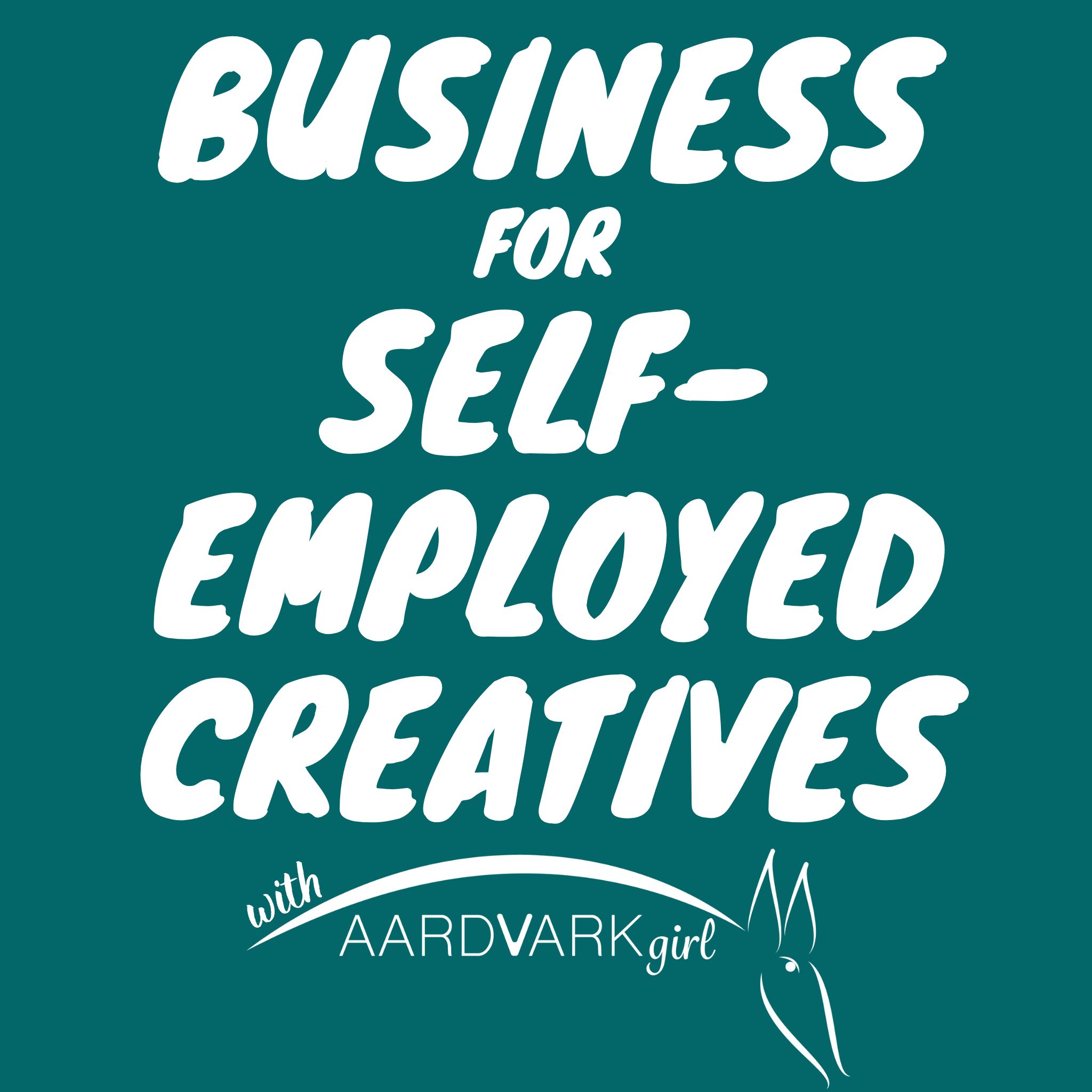 Helping business owners, freelancers & other self-employed creatives succeed… and have fun doing it. It can be overwhelming at times, but there's nothing like the privilege of working for yourself – making your own rules, owning your time, and trusting your instincts to make the right decisions. With short episodes that get straight to the point, this podcast is about the common issues we face in business, along with solutions that work for other creatives like you. Aardvark Girl is a producer, project manager & business specialist with 20+ years of experience managing companies & helping people in creative industries. She helps you get a handle on the business side of things so you can focus on your talent. Let's get to work!
Episodes
Monday Jun 15, 2020
Monday Jun 15, 2020
My guest is a speaker, coach, and co-host of "The Best Life" podcast – Danny J.
It's a long episode because we cover a lot of important topics:
- the connection between mindset & money
- sharing your personal stories to connect with others
- pushing yourself out of your comfort zone
- the importance of communication & having hard conversations
- releasing judgment, assumptions & resentment
- setting boundaries with clients
- the danger of blaming COVID-19 & the economy
- abundance mindset vs. fixed mindset
- how your ego can hold you back
- being mindful with what you have so you can prepare for the future
- learning to pivot and find opportunities during difficult circumstances
- discipline vs deprivation when it comes to managing money
- reallocating your resources to get what you want
- connecting with your audience as a content creator
- accepting imperfection and just getting started
- choosing your own narrative
02:01 Being confident enough to share your most vulnerable experiences. "If there's something I don't want to talk about, that is exactly what I have to talk about."
06:28 Starting the Best Life podcast – it's scary, but if it helps one person, it's always worth it.
08:42 Pushing yourself out of your comfort zone. "Be the buffalo."
10:48 Have hard conversations, talk about the things you don't want to do, put yourself out of your comfort zone. Rip the Band-Aid off.
10:55 Communication. Don't get resentful about things the other person doesn't know about.
11:54 Judgment. Assumption. Resentment. These things will destroy any relationship. Is there something in your JAR you need to talk about?
13:36 Freelancers complaining about clients – have you set boundaries & talked to them about it? Don't ruin a working relationship over a conversation that was never had. Set and manage expectations.
15:49 Blaming the economy or COVID? Everyone's doing it. But don't focus on being a victim of things that are out of your control.
21:21: So much is mindset. Do you have an abundance mindset or a fixed mindset? Are you focused on what you don't have, or are you looking for different possibilities?
22:17 Check your ego. Tell people what you're struggling with. Ask for help. Don't let pride hold you back.
23:01 We don't know the domino effect of what's happening now and how it might affect you a few years from now. Be faithful and mindful with what you have. Live within, or below, your means.
24:27 COVID-19 happened and a lot of people have lost their jobs. A lot of people will never get that work back again. However, you have skills. You can do something about it. You can come back stronger. There are people who are making so much money right now, who have used this as an opportunity - and so can anyone else. Learn to pivot, and know that your circumstances don't create your outcome.
25:25 If you're serious about building a safety net and being financially comfortable… if not financially thriving… you have to make an active choice. And sometimes that comes from sacrifice. But there's a difference between discipline and deprivation. You're giving up something for what you want, not to deprive yourself of joy. We need to learn how to control our spending and to be able to create more income, but ultimately it is being intentional with what we actually want our life to be.
28:39 If you want your lifestyle to be different, you have to do something different. Most often, it's not about making more money, it's just reallocating the resources you have and making an intentional plan.
29:17 How/why Danny created the "Find the Money" project, and "Master Your Money" course.
33:31 Part of being a content creator is really listening to your audience and seeing what they want and what they need and how you can help fill that. Serve in a way that people need and that they're asking for.
34:48 Sell them what they want, give them what they need. You have to create a bridge from where they are to where they're going to be. They need to have the same epiphany that you had.
36:24 Sell your program or online course before you create it. Don't waste your time making it until you know people are going to buy it.
38:39 Perfectionism is the worst enemy of anything. You have to start somewhere. How badly do you actually want it? Work on the solutions instead of the problems.
40:57 Calling out your bullsh*t. No one else can control your thoughts. No one can make you mad unless you choose to be mad. You have to decide who you want to be. We are in control of our own perception.
43:41 How, after 18 years, Danny built a relationship with the daughter she gave up for adoption when she was 15.
47:47 You can't necessarily always judge a circumstance on what it looks like right now. What seems like the worst thing that ever happened could turn into something amazing.
You can find Danny on social @dannyjdotcom or email danny@dannyj.com
And check out some of her programs at https://www.findthemoneyproject.com and https://www.21dayjournal.com
Connect with me through your favorite platform! https://pods.link/aardvarkgirl